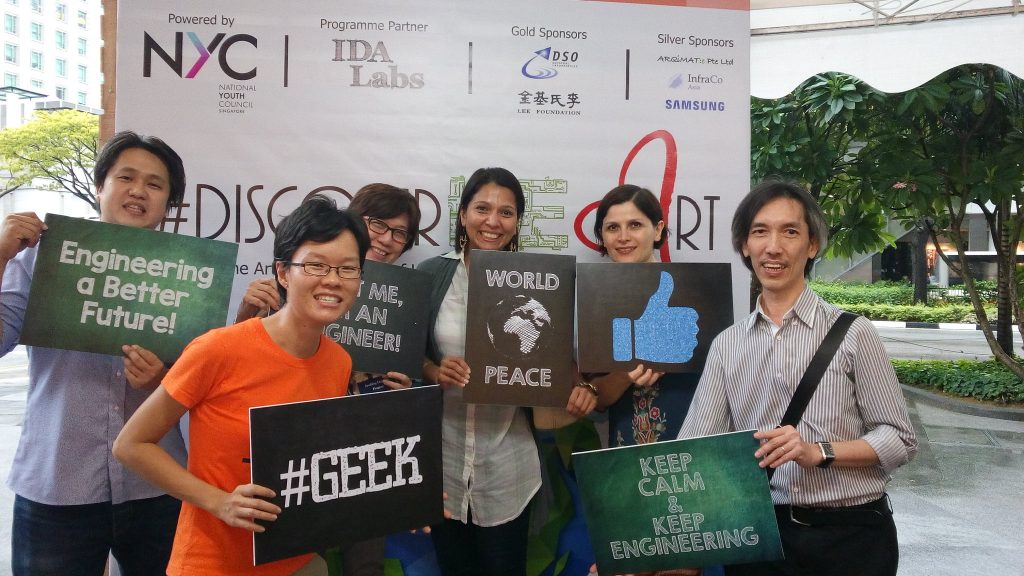 Engineering Good, supported by IMDA and Our Singapore Fund, is organising Tech for Good which is an innovation challenge for passionate and creative youths to develop solutions that will benefit persons with disabilities and their families/care-givers.
This innovation challenge for Good will run from August until November, where participants will go through ideation, prototyping, and iteration, culminating in a public festival event to showcase their prototyped solutions.
The challenge will be presented to schools and tertiary institutions and enthuse them to make, hack, code, and design technology for good and will also bring together local non-profit organisations and other social sector partners.
The festival will be held at a public community space on 2nd November 2019. The teams will present their ideas to a panel of judges, as well as to the general public who can take part in a public vote. There will also be other on-going activities such as classes and workshops to let people experience the value of assistive technology, as well as an exhibition by our partner non-profit organisations to showcase their efforts in this area.
Engineering Good is looking for Mentors for this innovation challenge, whose role will be to provide direction, advice, and wisdom to the team and guide them through the stages of a prototyping project.

Mentors are experts in their own field, e.g. Electronics, App Development, Robotics. They can be a lecturer, a project manager or a professional. We are looking for individuals with experience in handling a project from start to finish and looking to guide our young teams with their prototype.

Mentors are required to have the time to give the teams direction and assistance for the project as and when necessary. The teams are expected to go thru and experience a normal project workflow of user analysis, ideation, prototyping and feedback.
(Expected time varies on how involved you are with the teams.)
One of the goals is to teach youth empathy, as well as using STEM methods to solve current issues. Teams are expected to visit the beneficiary location at least twice where they will learn about the beneficiary, its work, and the difficulties faced, from which the team can do a needs analysis and nail down parameters. The mentors are expected to take them thru this.


(2-3 visits, but could be more at your discretion.

)
Mentors are also expected to work together with the Project Managers to make sure the teams are on track and their KPIs are met.
(Ancillary online engagement)
Mentors will be given a briefing and handbook about expected project workflow and deliverables of the project. Engineering Good will of course be on hand to assist wherever necessary and also assist in acquiring resources.
Problem statements for partcipants can be found here:
Important dates to take note of (Actual timings will be advised)
Announcement of Shortlist
If you are interested, your participation will involve 3 separate phases:
Your Mission, If You Choose To Accept It
Please fill up the online form to indicate your interest to register as Mentor.

Submission period: 10 to 25 August
After shortlisting the Participants (27 August), we will assign the most suitable Mentor to them based on expertise. Successful Mentors will be notified and it is mandatory to attend the Initial Briefing on 31 August. Your role will then be to assist the teams to better understand the nature of the problem and guide them on ideation, conceptualising, design and prototyping. Mentors need to monitor the team's progress and will have a monthly meeting with the Tech For Good Committee.

Period: 31 August to 2 November
You will be invited to the Tech For Good festival, where you can network and engaging with other teams and the general public, as well as take part in the public judging for the teams to receive several awards. The most promising prototypes may be adopted to continue into research and development. There will also be a short debrief session for all Mentors.

Tech For Good is held on 2 November